Color Your Day
Today we are all about color! There are so many ways for you to add color to your greeting cards (and all of your other paper crafts too.) Between inks, watercolors, colored pencils and markers. The choices are endless.
Welcome to my journey in the Altenew Educator Class. I am so glad that you stopped by today. We are focusing on using watercolors to add color to some embossed flowers to add that custom bit of color to your cards. We will focus on a technique that I used with different colors that you can apply to so many of your own projects. Then we will give you some ideas on how you can apply them to different designs. I used a watercolor pan set, but you could apply the same ideas for any watercolors, watercolor markers or even watercolor pencils.

Basic Watercolor Technique
Let's get started with the basic technique. There are only a few basic supplies that you probably have in your stash.
Supplies
Thank You 2022 stamp set (was a gift-not available)
Fancy Greetings stamp set
Geometric Elements stamp set
Acrylic blocks or a stamp positioner
Watercolor paper
Cardstock
Pan watercolors or any watercolors that you have
Plastic watercolor palette
Small detail watercolor brushes
Water
Versamark embossing ink
Embossing bag
White embossing powder
Heat gun
Altenew permanent crisp black ink
Gold metallic marker
Gold Stickles
Double sided tape
Foam tape
Foam Dots
Washi tape
Gems
Cut pieces of watercolor paper in a size appropriate for your card and the stamp set that you plan to use.
Go over the watercolor paper with the embossing bag.
Stamp the stamp aet with the Versamark ink on the watercolor paper.
Cover with the white embossing powder.
Tap the excess embossing powder off.
Heat the embossing powder with the heat gun till all the powder has been completely heated.
Let it cool.
Choose two or three watercolors for your flowers.
Place some watercolor in the palette.
Color the flower with a base color.
Add some darker color to shadow your flowers.
Set flowers aside to dry.
You can cut the flowers apart or use the background behind the flowers.
You can add a wash to the background.
Add some splatters if desired.
Cut the card base.
Cut any layers if you want extra dimension.
Add some washi tape before the final layer is on.
Use double sided tape to adhere the layers.
Use foam tape where you want to add additional dimension.
Stamp your sentiment in permanent black ink.
Layer cardstock on the sentiment following the same color pattern.
Add the sentiment to the card with double sided tape or foam dots.
Add any sequins or gems to the card.

Blue And Orange Floral
Top Layer-4 2/8" x 6"
Second Layer-4.5 " x 6 2/8"
Card Base-4 6/8"x 6 3/4 " base
Blue, orange and green watercolors used.
Navy and light blue cardstock
"Sending Hugs" from Fancy Greetings stamp set.
Gold Metallic Marker on stems
Gold Stickles on tups of stems
Green greenery used behind the flowers.
Light green gems used.
Tips:
Layer the flowers to create bouquet.
Use blue washi tape around the two top layers.
Use foam dots to layer sentiment.
Purple And Blue Thank You Card
Top Layer-4" x 4.5"
Second Layer-4.5" x 5"
Third Layer-5"x 5 4/8"
Fourth Layer-5 2/4" x5 7/8"
Base-5 5/8" x 6"
Purple colors on the flowers used.
Blue used for wash background.
Light blue and white cardstock used.
Gold metallic markers used for the stems.
Gold Stickles used for the stem tips.
" Thank You" sentiment from Geometric Elements
Tips
Blue wash used behind flowers.
More Colorful Tips
Only use a few colors at a time.
Use a color wheel to discover coordinating and contrasting colors.

When stamping on colored cardstock test your colors on a scrap piece first as the ink color may be affected by the cardstock.

Play with color by using your ink pads to find out what you like.
Want to find the products that I used? They are listed below (compensated affiliate links used at no cost to you). Thank you for your support.
I hope that these projects have inspired you to get out your watercolors or other color media to create some colorful projects. As always, we appreciate your comments, thoughts and ideas. Please take a moment to share your thoughts.
Thank you for your visit today. We hope to see you again soon. Please take a moment to follow us so that you do not miss a thing!
Best Regards, Happy Crafting!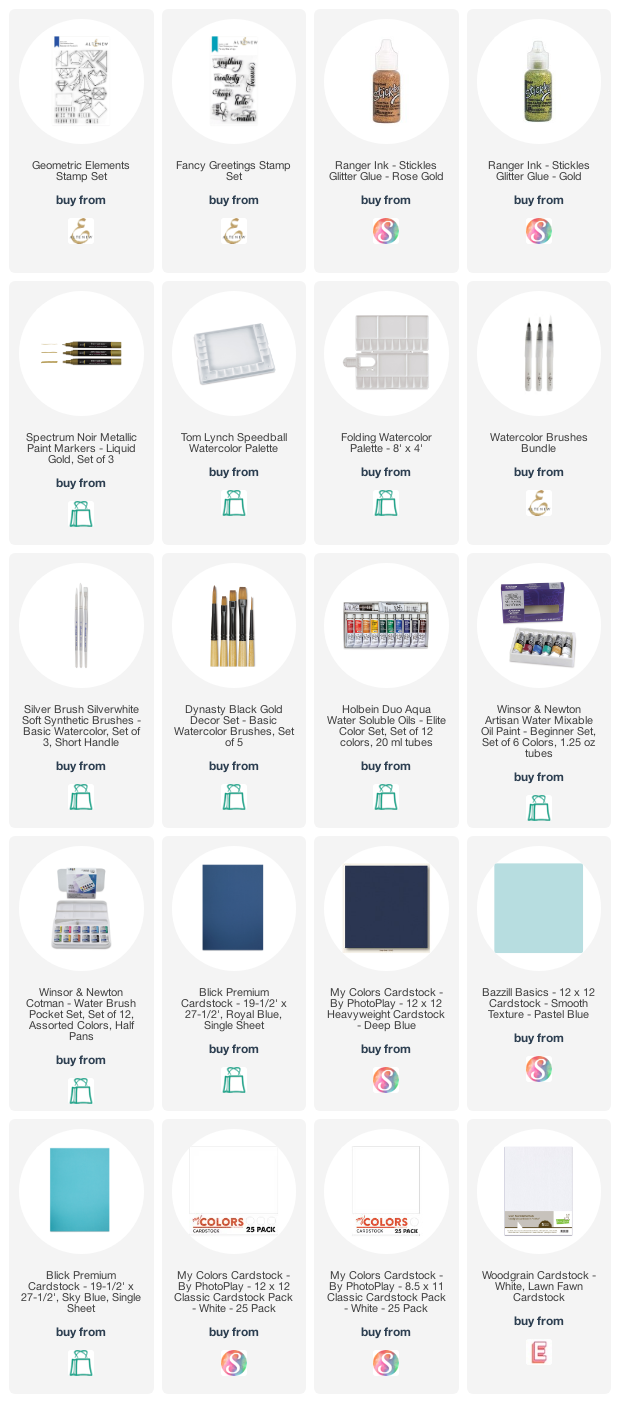 an style="color: #783f04;">